Playing music is my passion
It's also what I do with most of my time, and how I earn most of my living. Since the age of 20 I have been a full time musician, playing styles that include rock, country, bluegrass, jam, newage and experimental electronic music, and even a little jazz.
I began playing music around the age of 12. I played my dad's old coronet in 6th grade band, and then moved on to take piano lessons for a short time. My grandfather was constant performer, playing bass with country and variety bands as well as a long stint with Ron Luzener and the Polka Pals. He inspired me to play the bass and guitar, and stringed instruments became my love at about the age of 13. Like most teenagers in the early '80s I learned all the hair metal songs, and formed a group with some high school buddies of mine called Devine Right. We all had a love for fairly sophisticated rock, especially Rush, and learned many complicated songs with arrangements that were really over our heads at the time, but we played them anyway. Those guys, Lewis Dickinson, Eric Frith, and Mark Billings, along with Tom Yoder, my guitar teacher at the time, helped me grow me more as a musician than any of us thought possible.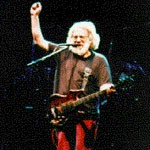 I studied music theory for a couple of years at the University of South Carolina, then moved on to Media Arts where I studied the technical aspects of audio recording, animation, photography, film and video. I didn't play in bands a lot during those years. I put together a few projects for the occasional gig, but nothing that lasted. This was a time when my tastes in music changed and expanded rapidly. I discovered the mind expanding sounds of Led Zeppelin and the Grateful Dead, as well as classical music. Once I started seeing the Dead live though, it all changed for me. Music became a full time experiment, with no boundaries or rules, and it also became the center of both my professional and social life.
Fresh out of college, I stayed in Columbia, SC, and played loose, jam style rock with Craig Wright and the Nightcrawlers for several years, and then joined the Grateful Dead tribute band Spoonful. I played with the "Spoons" for over ten years, and made some of the best music and had some of the best times of my life. Those guys and the music of the Grateful Dead will forever be a part of me. I hope to post some examples of Spoonful's music on this page soon.
As a result of often being the band member with the most technical experience I regularly acted as the sound engineer for both my bands and also for many other groups over the years. I worked part time at a local rock club mixing for bands, and eventually made it into the studio with producer Greg Davis. Greg and the other guys at the Jam Room studio in Columbia, South Carolina gave me the opportunity to sit in on sessions, and eventually become a regular session player as well engineer and eventually producer. I created my own recording studio where I wrote and recorded music for commercials, small films, and of course my own groups as well as other bands.
For four years I played with The Ultraviolets, an original modern rock group led by songwriter Brent Lundy. We recorded a CD with Hootie and the Blowfish producer Dick Hodgin. Those were some tumultuous times, and a strange group of guys, but we made some great music and had a lot of fun and adventure when we actually getting along. Brent's songs are a real treat to play or listen to, and I learned a lot about the art of arranging and recording during those years.
In 2000 I left South Carolina and moved to Atlanta, GA. I never settled into big city life, but had the chance to play with Brian Ashley Jones as an upright bass player for two years. Brian put up with me while I figured my way around without frets. It was about this time that I began to listen to more acoustic music, old country, and bluegrass. The time was ripe to get out of the city...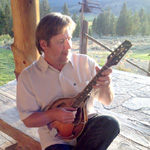 Now I am Hailey, Idaho, a small town just outside of the ski resort of Sun Valley. In the last nine years I've made good friends here, joined with amazing musicians and formed several great bands. I continue to record, mostly my own acoustic music in a simple studio these days. Though I had played around on one for some years I finally got serious about the mandolin. It has become my favourite instrument, and the focus of my studies these days. I also learned to play the five string banjo in the last few years. I have begun to write more music as well, and released my first solo CD. I have been preparing material for another CD to be recorded soon. Who knows where it goes from here, but this is a great place to be. I make small town music for small town people and have a great time doing it.