Spare Change is an acoustic duo specializing in a blend of folk music, singer/songwriter based pop, oldtime, bluegrass, and even a little jazz and swing. The group uses a combination of unique instruments, giving every song, even those you have heard before, a special sound all their own.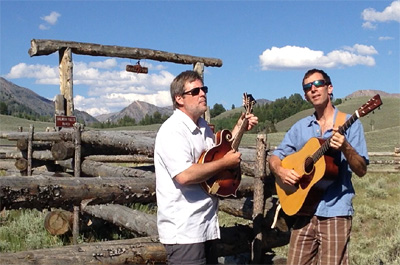 The duo has played for over a decade throughout Idaho's beautiful Wood River Valley and can be found performing at most public events throughout the summer season. They are a favourite for area weddings and private parties. Any event can be made more exciting with the addition of live music, and Spare Change has a perfect blend of music that you may want to listen closely to, or just tap your foot and let the sounds wash over you, creating the perfect background atmosphere for your event.
.
News
Thanks for a great summer, we hope to see you next year at many of our familiar haunts!

Spare Change will play at Sun Valley's Trail Creek Cabin this winter. There is no better place for dinner in the Valley!

Don't miss our friends Eli West and Ben Winship performing at the Sun Valley Opera House on January 22.